Damp Proofing
Our surveyors realise it is important to correctly identify and treat all types of damp.
UDPG therefore have developed a range of specialist services to control the problem associated with all types of damp. Walls - Rising Damp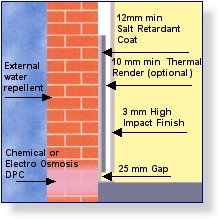 Walls - Rising Damp
Rising Damp & Re-plastering Systems
Chemical or electros osmosis dpc used in conjunction with special waterproof plasters are used to provide a guaranteed rising damp control.
The addition of an external water repellent can be applied to improve the resistance of the masonry to rain penetration.



Floors - Rising Damp
Liquid Epoxy Floor Sealers
The problem of rising damp on floors can be quickly resolved by the application of a specifically designed, hardwearing liquid epoxy resin. These are available in both clear and coloured finishes.

They are ideal when time and height restrictions limit the traditional approach.