Remedial Wall Ties Northern Ireland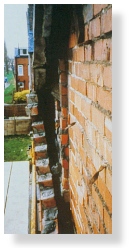 Cavity Wall Tie Replacement
Properties of cavity construction built before 1981 could be at risk of cavity wall tie corrosion. Poor galvanising allows the tie to corrode making it expand and cause horizontal cracks in the mortar bed, with potential for the wall to collapse.
A skilled surveyor from Ulster Damp Proofing Group can easily diagnose the problem with a metal detector and an endoscope camera.
New stainless steel ties can be inserted externally and the old ties removed or isolated by Ulster Damp Proofing Group, with little or no internal disruption.